2019-08-13
More Great Feelings...
German magazine Blues News has reviewed Hans Ekestang's book "Great Feelings and Meetings" and we like the rating.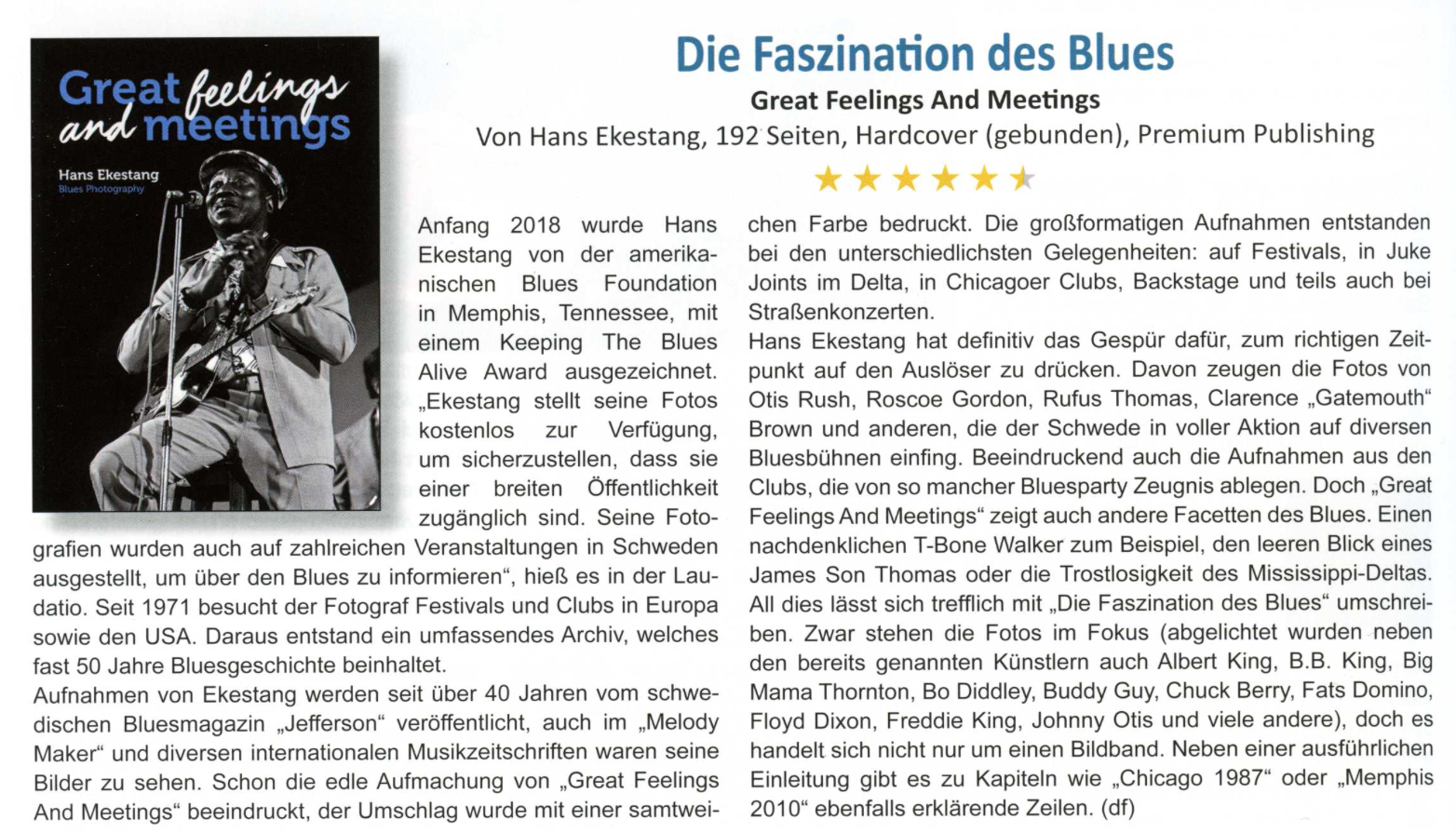 2018-11-15
Big congratulations Hans!
The Blues & R&B photographer Hans Ekestang receives honorable international recognition! The Blues Foundation in Memphis, has decided to award the 2019 "Keeping The Blues Alive" award to the Swedish artist photographer.
Hans Ekestang is current with his new photo book entitled "Great Feelings and Meetings" published in October by Premium Publisihing. Here is the jury's motivation:
Swedish blues photographer Hans Ekestang has been capturing the blues through his impressive photography since 1971. He has devoted the better part of his life to traveling internationally to create a superior catalog of photographs, having attended blues festivals across Scandinavia, Europe, and the United States. His subjects have included blues legends B.B. King, Muddy Waters, Chuck Berry, James Brown, Little Richard, Fats Domino, and Luther Allison, among countless others. 2008 Keeping the Blues Alive Award recipient Jefferson magazine has been featuring Ekestang's images for over 45 years, with Ekestang providing his photos at no charge to ensure that they are seen by a broad public. His photographs have also been exhibited at numerous public events in Sweden, further educating the public about the blues. A 196-page book of his blues and R&B photos, Great Feelings and Meetings, has recently been published in Sweden and warmly welcomed by blues enthusiasts. Hans Ekestang has a unique talent for catching the moment and expressing the feelings of these artists on stage. His aim is to evoke the same feelings in anyone looking at the pictures.
Congratulations Hans!
Have a nice trip to Memphis in January, when you go there and receive the award …
Read the Blues Foundation's full press release here:
https://blues.org/the-blues-foundation-announces-the-recipients-of-2019s-prestigious-keeping-the-blues-alive-awards/

2018-08-01

The Philly Sound
TV doc. on The Sound of Philadelphia.
Our luxury work The Philly Sound by Dave Moore and Jason Thornton, is now acting main inspiration for an upcoming ambitious TV documentary in 12 chapters called "Wake Up Everybody". American top producers and renowned directors as well as main artists like John Legend are behind it, and hopefully this imperial project can see the light of the day in 2020.
See the teaser film (for investors) here...


TSOP JOHN LEGEND SIZZLE 06.20.18 from Visual Innovations, Inc. on Vimeo.
2017-12-08
The author of "THE BEATLES - FROM CAVERN TO STAR-CLUB", Hans Olof Gottfridsson, has been interviewed in Australian radio (pod). Click the link below to listen when they discuss the above book.

Click here to listen



2017-06-18
NEW ADDRESS!
On June 19th you will find us at Parmmätargatan 11, located at Kungsholmen in Stockholm city. The closest subway is Rådhuset.
Please note that our mailing address (incl. PO-box 301 84) is unchanged! Only the visitor's address is new.
We are leaving Warfvinge's väg after 13 years. The house is to be demolished to accommodate a scraper of 70 condominiums.
We sincerely welcome all customers to come by and say hi. And why not complete your Premium Collection at the same time?
Sep 8, 2016
HEDENGRENS BOOKSTORE FIRST WITH THE PHILLY SOUND BOOK?
Hedengrens Bookstore in Stockholm city got the other day their highly anticipated pre-order delivered. Hedengrens purchaser Richard Sköld looks pleased when he for the first time holding up the Philly Sound-book in his hand. This despite its weight - more than three kilograms ... One copy was placed in the window right away facing straight towards Stureplan!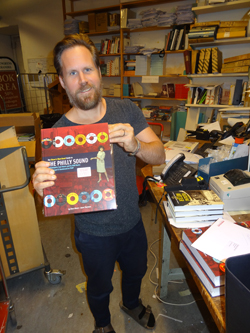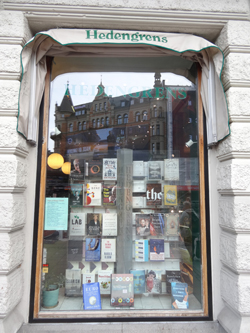 Sep 8, 2016
Record fair (Sunjay) Solna/Stockholm
Saturday, September 24, we at Premium Publishing are exhibiting at Solnahallen with our books. Hope to see you there!
Sep 8, 2016
TWO REAL PHILLY-ENTHUSIASTS
First up to our office to view the brand new Philly Sound book was the music industry veteran Thomas Witt: legendary Swedish label manager / product manager at CBS Records in the 70s - not only for American Columbia and Epic, but also for Kenny Gamble & Leon Huff's now legendary Philadelphia International. It was Thomas who saw to it that Three Degrees, O'Jays, Billy Paul, People's Choice, Harold Melvin & The Blue Notes etc. were also launched in Sweden. Pictured here is Thomas (left) congratulated by Premium Publishing's Wille Wendt, who in 1980 took over the job after Thomas and later also became a European product manager of the record label Philadelphia International. The gentlemen had of course unusually much to chat about when they met and together they inspected the new voluminous mammoth work of Philadelphia's soul music.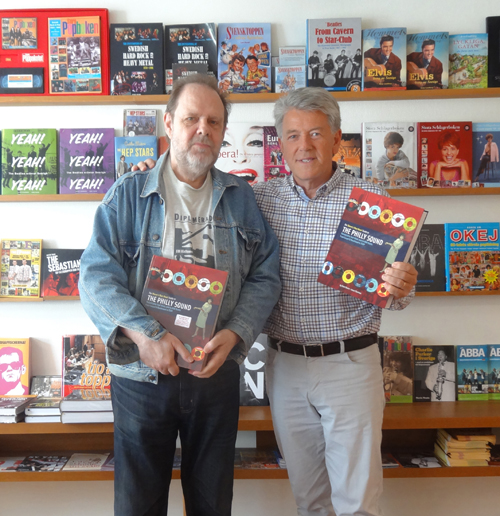 Aug 19, 2016
"Resan mot rockens rötter" on Youtube!


Check out the video and listen to Ronny Elliot's version of how it all began.
Jun 3, 2016
"Resan mot rockens rötter"!

Journalist Jan Kotschack (writer of the Radio Nord-book) comes with a new book in August; "Resan mot rockens rötter"!
Learn where the Swede Jonas Bernholm during the 1970-80's, became known worldwide as Mr. R & B. His passion for American black music drove him in his quest to restore the forgotten American pioneers. Legends like Roy Brown, Amos Milburn, Ruth Brown and many more. It all ends with Mr. R & B himself is dedicaded a exhibition at the Stax Museum of American Soul Music in Memphis ... A book that takes you to the genuine contemporary black music scene in cities like New Orleans, Memphis and Los Angeles. And Stockholm (!) ...

The book is 400 pages. Have a release August 30.
Click here to order the book
Dec 23, 2015
MERRY CHRISTMAS AND A HAPPY NEW YEAR!

A big thank you for the past year. We now look forward to 2016 when we will introduce many new cool books! There will be about music, of course - Philly Soul, British Beat, Punk and movie stars. And in between a few surprises!
We can not tell you more now. It must be Santa's little secret...
The friends at Premium Publishing.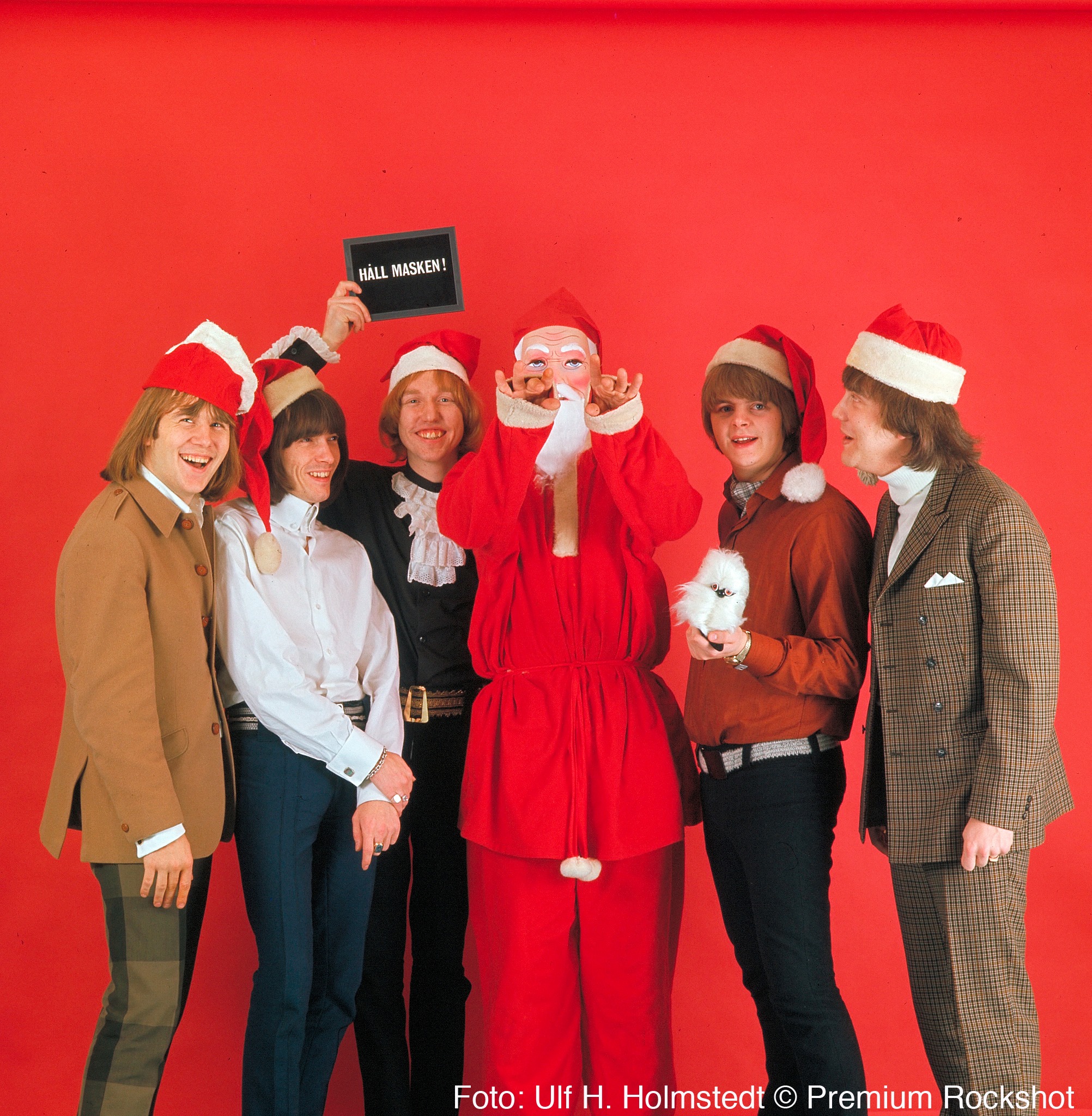 Sep 10, 2015


Premium at the Göteborg Book Fair!
Meets us at Göteborg Book Fair during September 24-27, 2015. Legendary magazine entrepreneur and rock photographer Hans Hatwig will be in our stand throughout the fair to present and sign his new sensational double-memoirs, "Miljardären som visste för mycket".
You can also find a selection of our others books, including the brand new English language book on AC/DC, "Love At First Feel" that is released on September 24! The book includes 12 unique deluxe photos that Hans photographed during AC/DC's very first Swedish tour back in 1976.
You will find us i the B-hall in booth B03:47. Welcome by and say hello!
Read more about "Miljardären som visste för mycket" here
Read more about the new AC/DC book here


Marsch 15, 2019
45 rpm back in stock
Now the book "The UK 45 rpm sleeves" is back in stock
Buy the book here
Nov 15, 2018
Big congratulations Hans!
The photographer Hans Ekestang gets great international recognition! The Blues Foundation in Memphis, has decided to award the 2019 "Keeping The Blues Alive" award to the Swede.
Read more here
Aug 1, 2018
The Philly Sound
TV doc. on The Sound of Philadelphia.
Read more and watch teaser film here
June 18, 2017
New address
On June 19th you will find us at Parmmätargatan 11, located at Kungsholmen in Stockholm city. The closest subway is Rådhuset.
Click here for more info
March 30, 2017
No more delivery to Switzerland
Due to problems with the Swiss custom, and high custom fees for the customer, we have now decided that orders from our website with delivery to Switzerland no longer will be available. Please contact us for more information.
Okt 13, 2016
The Nobel Prize in Literature to Bob Dylan!
Now is the time to learn a little more about our new Literature Prize winner! Therefore, we celebrate with special price on "Visa Mig Vinden - Bob Dylan I Sverige" by Göran Holmquist.The offer is valid until December 10! Or as long as supplies last.
Click here to order the book
Sep 7, 2016
The Philly Sound on Facebook!
Visit the official Facebook page of The Philly Sound book. Filled with photos, music, videos and other interesting info on this much talked about new book.
Click here to visit the Facbook page